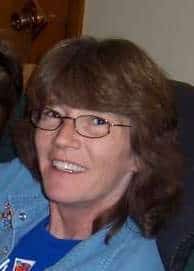 Carol Jean Stankey (Barker), 55, passed away peacefully Monday, May 1, 2017.
She was born in LaCrosse, May 16, 1961 to Harold (Red) and Karen Stankey. She was the seventh of eight children and was a happy addition to her loving family.
Carol was a die-hard Packers fan and it was rare to see her not wearing something of the Packers. Carol enjoyed spending time with her family and her dog Red. She enjoyed golfing, bowling, collecting turtle figures, and rocks. Carol also loved scratch-offs and gambling.
Carol is survived by her lifetime love James (Shorty) Symicek; her two children whom she loved very much, Ernie (Angie) Komperud III, and Margo (Travis) Maassen; her grandchildren, Shauna, Alex, Michael, MacKenzie, Caden, Tanner, and Cassidy; her siblings, Linda (Ron) Elsen, Frank, JoAnn (Richard) Bredemann, Brian (Carol), Ron, Diane, and Pete; and many nieces and nephews, family and friends.
Carol is preceded in death by her parents.
Carol will be missed greatly by so many people she loved unconditionally.
A special thank you to the staff at Mayo hospital LaCrosse for their kindness and support during this difficult time.
A memorial service will be held at 3:00 pm on Thursday, May 4, 2017 at Coulee Region Cremation Group, 133 Mason St. Onalaska. Visitation will be held from 1:00 pm until the time of the service. Pastor Janet Wollam will officiate. A celebration of Carol's life will be held immediately following at Hillbilly's Bar, 1322 La Crescent St. La Crosse. To honor Carol's memory, the family asks everyone to wear their Packer's attire.
As Carol would say, "See you later alligator (after awhile crocodile)."