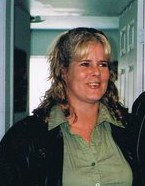 Jacqueline Marie Kaval, 42, of Onalaska, WI, passed away on Tuesday, February 26, 2013 at her home. She was born on September 8, 1970 in Chicago, IL.
Jackie was employed at Red Pines restaurant in Brice Prairie. She had moved to this area from Bradenton, FL in 2010.
She was a loving sister and friend, and she would always look for the best in people. She loved to laugh, listen to music, and spend time with her friends and family.
Jackie is survived by her father, Merrill Kaval of Chicago; brother, Sean Kobylar (Teresa Frencl) of Onalaska; three sisters, Samantha (Ben) Hartman of Rankin, IL, Jennifer Kaval of Chicago, and Shannon Kaval (Tony Neubeck) of Chicago, two uncles, Jim and John Neeson, and many nieces, nephews, and friends who loved her dearly.
She was preceded in death by her mother, Sharon Neeson; and her sister, Marilyn Kaval.
A Celebration of Life's Service will be held on Tuesday, March 5, 2013 12:30 pm at Coulee Region Cremation Group, 133 Mason St. Onalaska, WI.  The Rev. Dana Jackson will officiate.  A visitation will be held one hour prior to the service at the funeral home.