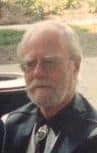 Leslie Dale LaFond, age 85, of Holmen, WI, passed away peacefully on May 10, 2017. He was born on April 28, 1932 to Clifford and Laurabelle (Clous) LaFond in Malta MT and spent his high school years in Beaver, OR. He married Pat Sutton on July 2, 1956 in Cloverdale, OR.
Les had a long career in the telephone service industry as an accounting consultant. He enjoyed the Southwest, horses, Western movies and gardening, He made many friends along his journey and was deeply loved. Les is survived by his wife and 3 children: Toni, Gene and Andre LaFond, 2 grandchildren Katie (Marker) Crim and Alex LaFond along with 2 great grandchildren Johnathan & Brody Crim.
He was preceded in death by his parents and a brother Leonard LaFond.
Thank you to all who provided care and services in his final months