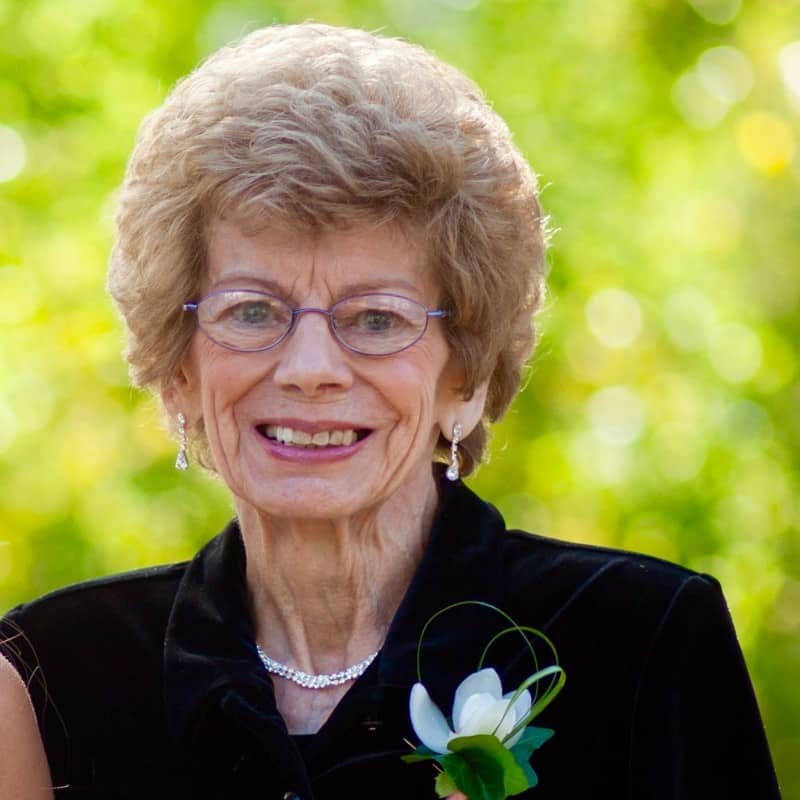 Louella F. (Clark) Holthaus, 86, of La Crosse died Monday, April 10, 2017, at her home, surrounded by her loving family. She was born in the Township of Sylvan, Richland County, WI in 1930 to Kenneth and Vesta (Ewing) Clark.
Lou graduated from Westby High School in 1948. She married William Howard in Lowell, MA in 1952 and they later divorced. She married Lloyd R. Holthaus in Nashua, Iowa at The Little Brown Church. She worked at Trane Company from 1966, starting as a file clerk, then working as a secretary, and retiring in 1993 working in payroll. She was a member of the Trane 25 Year Club and enjoyed spending time with her many retired friends.
Lou will be remembered as a loving, caring wife, mom, and grandmother who loved to cook, clean, and spend quality time with her family. Her love of teddy bears is reflected in the many that appear throughout her home. After retirement, she and Lloyd loved to take her grandchildren, Josh and Kelsey, on road trips and have fun adventures. She was an amazing cook and loved to make scrumptious deserts. She had a green thumb and could grow anything, but she especially loved flowers. Her beautiful smile, loving hugs and incredible heavenly scent will be missed by all who knew and loved her.
Lou is survived by her husband, Lloyd; two sons, Rick (Kathy) Howard and Kelly Howard both of La Crosse; a daughter, Vicki (John) Wilson of Chippewa Falls, WI; a stepdaughter, Debra (Holthaus) Robinson of La Crosse; a stepson, Greg Holthaus of Minneapolis, MN; two grandchildren, Joshua Wilson of Richfield, MN and Kelsey (Brady) Sells of Minneapolis, MN; one great-grandson, John "Jack" Wilson of Richfield, MN; seven step-grandchildren, Amy, Matthew, Jason, Cody, Andrew, Ryan and Tyler; five step-great grandchildren, Nicholas, Tyler, Jacob, Sophia and Preston; two sisters, Lola Mae (Dean) Dewitt of Joliet, IL and Lorraine (Tom) Bunk of Eagle, WI; a brother, Marion (Ruth Ann) Clark of Viroqua, WI; and many nieces and nephews.
She was preceded in death by her parents; two stepdaughters, Susan (Tom) Sweeney of La Crosse and Julie (Ross) Williams of Onalaska, WI; and brother-in-law, Tom (Lorraine) Bunk of Eagle, WI.
In following Lou's wishes, her body was cremated. A celebration of her life will be held on Saturday, May 13 at Olivet Beacon of Light Lutheran Church in La Crosse, WI. A memorial service will be held at 11:30am with visitation from 10:30am to 11:30am. A luncheon will follow, at the church.
The Coulee Region Cremation Group is assisting the family. Family and friends may express condolences online at https://couleecremation.com/
Memorials in her honor may be directed to the Gunderson Hospice. https://foundation.gundersenhealth.org/donate-now