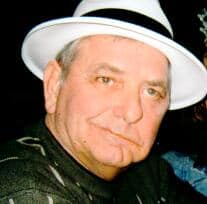 Patrick W. Devine, 70, of La Crosse, died Thursday, April 27, 2017 at Bethany Riverside, La Crosse. He was born on April 10, 1947 in La Crosse to Fredrick and Elaine (Panke) Devine. He graduated from Logan High School, class of 1965. Pat had a passion for hunting, fishing, golfing, coaching softball, and grilling out with family and friends. He was an avid Green Bay Packer's fan. His declining health prevented him from enjoying his hobbies for many years but he still enjoyed telling his stories to anyone who would listen. The majority of his career was working as a Quality Control Inspector at Machine Products in La Crosse for over 25 years.
He is survived by his two daughters, Tracie (Chris) Hibler of Milwaukee, WI and Jodie (Charles) Fitzgerald of Greenville, WI; 4 grandchildren, Ethan, Carter, Emalie and Isabella (Izzy); two sisters, Noreen (Le Roy) Carlson of La Crosse and Ann (Bill) Dunn of La Crosse; four brothers, Richard Devine of La Crosse, John (Linda) Devine of La Crosse, Donald (Cindy) Devine of Onalaska, Bob (Carol) Devine of Rockford, IL.
He was preceded in death by his parents; one Godson, Nicholas Devine; two sisters, Joanne Sagen and Mary Rudie; and two brothers, Frank Devine and Edward Devine.
A visitation will be held on Friday, May 12 from 1:00-4:00 at Coulee Region Cremation Group, 133 Mason St. Onalaska. Monsignor Steven Kachel will officiate a prayer service at 3:00. We will be honoring one of Dad's few requests by concluding with his farewell party at the Onalaska American Legion to celebrate his life.
The entire family would like to offer a "Thank You" to the compassionate staff at the Bethany Riverside, La Crosse and Hearten House III, Holmen.
Dad you are now finally free to be you again. Spread your wings and hunt, fish, and golf with the angels. We love and miss you.
To view Patrick's memorial video, please use the link below.
https://www.tributeslides.com/tributes/show/WRHSRKJYM7XC42C8