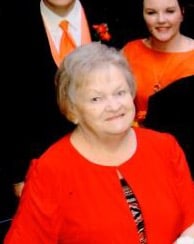 Shirley D. Taylor, 72, of La Crosse, passed away peacefully on December 15, 2017 at the Bethany Riverside Healthcare Center in La Crosse.  She was born on the 1st day of Spring, March 20, 1945 in La Crosse to Howard and Marion Deal.
Shirley grew up on the Northside.  Shirley graduated from Logan High School in 1963.  She then took on work as a Bookkeeper for a T.V. sales business in downtown La Crosse.  In 1966 her first child was born, daughter, Tracey.
Shirley went on to work at the La Crosse Rubber Mills where she met her future husband, Bruce Taylor.  They eloped to Iowa and were married for better and for worse on March 22, 1968.  Twin sons Brent and Brian would arrive shortly thereafter in August of 1970.  Shirley retired from the Rubber Mills with 32 years of service and then went on to work for Trane Co for the next seven years, where then she officially retired.
Her greatest accomplishment were her children.  She loved them so much and gave her love and support in any way she could.  She rarely said no to any of us, including Dad.  Shirley and Bruce spent their summer vacations up in the Northwoods of Hayward, WI, specifically on the Chippewa Flowage. Shirley and Bruce spent their time together up north, and taking trips to the casino. While Bruce hunted for musky, she kept us kids busy and enjoyed the company of fellow camp friends. Bruce passed away in 2007 and in 2008 Shirley came to live with her daughter, Tracey.  Many good memories were made including taking our furry companion Spazzie to the park.  She loved that dog.
Shirley is survived by her children, Tracey, Brian (Laurie), and Brent (Dawn); grandchildren, Matthew (Sam), Kaileena, Alex, Devon, Hunter, Kaeleigh, Siera, Savannah; great-grandchildren, Juno, Autumn, and Bowman; siblings, Rita (Tom) Anderson, Pat (Ralph) Zielke, Mike Deal, Mark Deal; and many other relatives and friends.
The family would like to thank Dr. Robyn Borge for years of caring for Mom and also Dr. Clark Davis for being so kind and gentle.  We also would like to thank the staff at Bethany Riverside for the care she received while living there.
A celebration of life gathering will be held on Tuesday, December 19th, 2017 from 5:00 pm to 7:00 pm at the Coulee Region Cremation Group, 133 Mason St., Onalaska.