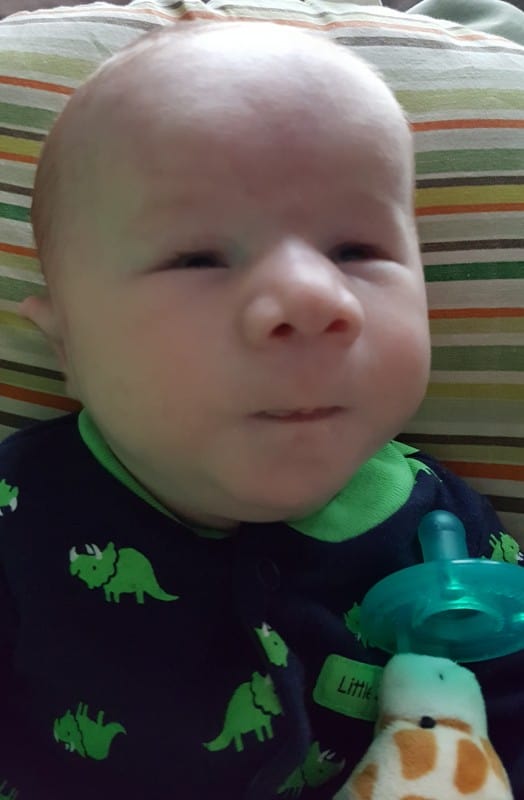 Awesome Austin Thomas Fecht was healed by his heavenly father on July 12, 2017.  He was surrounded by love and in the loving arms of his mother when he earned his angel wings.
Awesome Austin's earthly impact began long before he joined us on May 4, 2017, Star War's day.  Early in our pregnancy we learned that our precious son had Trisomy 13, a rare condition that has always been life limiting.  Many in the medical field thought abortion was an appropriate choice for him but that was never a consideration for our sweet, innocent, God-given son.  God's plan was for Austin to teach valuable lessons of love, compassion, and God's unending grace and mercy during his 70 days on earth, hence earning him the name – Awesome Austin.  The world has been impacted in countless positive ways because of Austin's life.  Those who followed his journey will be better for it, some have learned about God's love, some have grown closer to God, and all have seen the blessings that each moment on this earth is.  Austin fought hard to be here but his body could not be healed here on earth.
Awesome Austin was welcomed into heaven by his aunt, Cindy Rahn, who also shares his unique T13 diagnosis; maternal great-grandparents, Elva and Arnold Rahn and Ruby and Richard Yohn; paternal great-grandparents Catherine and William Fecht and two special sibling babies that went before him.  Awesome Austin has forever changed and blessed the lives of those who knew him including his loving parents, Tom and Sarah Fecht, his lucky siblings Makena, Connor, Hadley, and Briella; maternal grandparents Jane and David Rahn; paternal grandparents Laura and Mike Fecht; paternal great-grandparents Joan and Tom Sinniger; many aunts, uncles, cousins and countless friends who surrounded him with love his entire life.
A very special thank you to the La Crosse Mayo NICU staff and the American Family Children's Hospital NICU and PICU teams who lovingly cared for Awesome Austin for 60 of his 70 days here on earth.  The force was strong in Awesome Austin and his memory will live forever in the lives he blessed.
A memorial service will be held on Saturday, July 22nd at 11:00 am at the First Free Church, 123 Mason St., Onalaska, with a visitation from 9:30am until the service.  Coulee Region Cremation Group is assisting the family.
To view Awesome Austin's Tribute Video, copy and paste the address below into your browser's address:
https://www.tributeslides.com/tributes/show/56CMG5F35TT777SQ