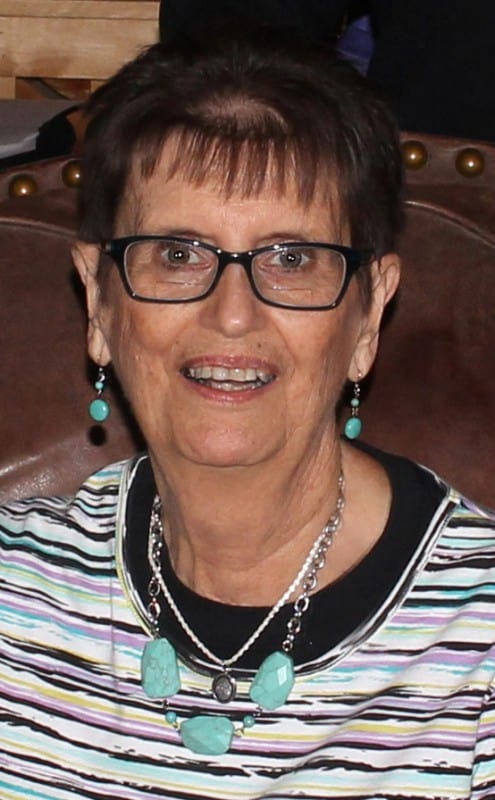 Elizabeth "Betty" Ida (Wintz) Pederson, 80, of Onalaska and formerly of Holmen, passed away peacefully in her home on Sunday, December 31, 2017.  She was born on April 1, 1937 in La Crosse to Erich and Dora (Kiessling) Wintz. She married Richard "Dick" Pederson on May 5, 1956 in La Crosse.  Betty was a fun-loving, compassionate woman who loved her family dearly. She knew the value of a good sense of humor and a good cup of coffee, and enjoyed lunching with friends, reading a good book, and shopping.  In her early years, Betty worked as a grocery store clerk with her mother. She later became a cook and custodian for the Holmen School District, where in her 10 plus years of service she made many friends and fond memories.
Betty is survived by her daughters Lynn (Steve) Knudson of Mindoro and Lois (Jerry) Heintz of Holmen; grandsons Erich and Kyle Knudson of Mindoro; granddaughters Danyelle (Chad) Chesebro of Holmen, Amanda (Ben) Kerrigan of Holmen, and Chelsey Heintz of Holmen; great-grandchildren Hannah, Yvonne, and Emily Knudson of Holmen, Jeffrey Chesebro of Madison, and Luke Kerrigan of Holmen; brother-in-law Tom (Virginia) Pederson of Westby; sister-in-law Margaret Hodgson of Manitowoc; cousin Richard "Dick" (Lu) Koeppe of Denver; best friend Mary Powell of La Crosse; and many nieces and nephews.
She was preceded in death by her parents, grandparents, mother-in-law and father-in-law, Velma and Raymond Pederson, brother-in-law Gary Pederson, sister-in-law Sonja Pederson, brother-in-law, Ned Hodgson, and aunts and uncles.  A special thank you to Dr. Joel Dekrey, the nurses, doctors, and hospice team at Mayo Health Care in La Crosse, and Coulee Region Cremation Group.
To honor her wishes, a private family gathering will be held at a later date.
In lieu of flowers or plants, donations may be made in Betty's name to the Coulee Region Humane Society or to a charity of your choice.