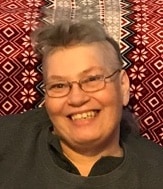 Heather J. Cline, of La Crosse, WI, 50 yrs. old passed way 4/22/2017 of cancer.
She was born February 18, 1967, to John T. (Jack) and Marilyn B. (Paulson) Cline in Darlington, WI.
In the taxi and transportation business throughout her adult life, she was involved in the local taxi industry for 22 years, primarily for CTS Taxi. From driver to dispatcher to management, her first love was being behind the wheel, interacting with customers one-on-one.
Her love of writing was well known; she had a gift of expression in the written word.
Siblings, nieces, and nephews, great nieces and nephews and cousins and many friends survive Heather.
12 older brothers and sisters survive her;
Richard (Elaine), Dan (Jay) Cline of Platteville, WI Pete (Deb) Cline of Brodhead, WI
Jim Cline (Barb Schultze) of Stevens Point, WI, Phil (Chris) Cline of Argyle, WI
Martha (Ron) Balsiger, Ruth (Curt Zentner), Brian (Connie), Bruce (Marilyn L.) Cline, of Monroe, WI, Pat (Jodi) Cline of Trempealeau, WI
John W. (Jennifer) Cline of Shannon, ILL Nancy (Lavern) Benson of West Salem, WI
Her parents, John and Marilyn B. Cline as well as her nephew Matthew preceded her in death.
A memorial service will be held at 5:30 pm on Thursday, April 27, 2017 at Mt. Calvary Lutheran Church, Trempealeau, WI. Visitation will be held from 4:00 pm until the time of the service. Pastor Dana Jackson will officiate.
Coulee Region Cremation Group is assisting the family.