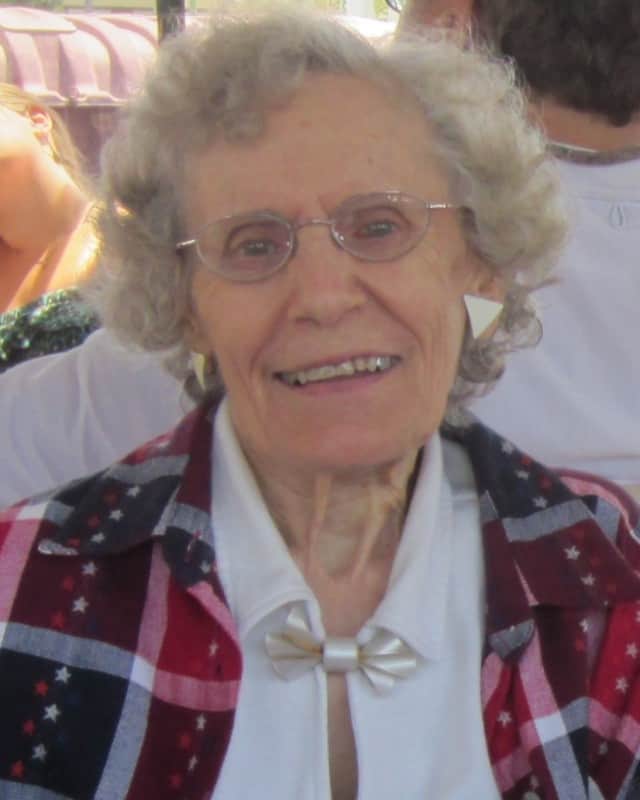 Marian Mae Lorenz, 91, of La Crosse, died July 25, 2017, at Gundersen Medical Center.
She was born May 2, 1926, in the town of Greenfield, to Edward and Amelia (Eggler) Meyer.  She worked as a secretary at Trane Company prior to her marriage to Wesley Lorenz on April 26, 1947, in La Crosse, Wisconsin. Marian was an avid watercolor and oil painter, and active in her church.  She enjoyed sewing and knitting, reading, gardening, baking, spending time with her family and friends, and volunteering her talents to help others.
She is survived by her son and daughter-in-law, Lloyd (Marge Loch-Wouters) Lorenz; her daughters, Diane Bell and Nancy Lorenz; grandchildren, Peter (Kim) Bell and Leanna (Andrew) Powers; great-grandchildren, Madison and Alaina Bell, and Abigail Powers; her sister, Alice Deters; and many nieces and nephews.
She was preceded in death by her parents; her sisters, brothers, and in-laws, Arnold (Leona) Meyer, Hilda (Edward) Lorenz, Reuben (Dorothy) Meyer, Lillian (Gerhard) Kapanke, Irene (William) Schieche, Bertha (Ivan) Mundt, Herbert (Mae) Meyer, and brother-in-law, Lloyd Deters.
Thank you to the compassionate healthcare teams at Gundersen Hospital.  Services will be held with a 3:30 p.m. visitation and 4:30 p.m. service on Thursday,  August 3, 2017, at Faith United Methodist Church, 1818 Redfield St., La Crosse.  Rev. Banze Kyabuntu will officiate.  Marian will be laid to rest in Chipmunk Coulee Cemetery at a later date. Coulee Region Cremation Group is assisting the family.