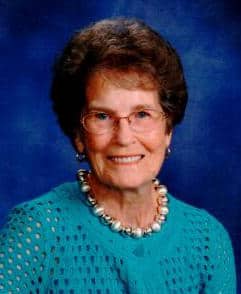 Millie Lamke Towner, 91, of Onalaska passed away November 18, 2017, at Mulder Health Care. We thank all the employees for the extraordinary care she received. Millie often commented that everyone was always smiling and so very nice.
Millie was born in Coquille, Oregon as the third of five children born to Hugh and Lola Shellabarger. She met her husband, Harley Lamke, at the USO in Klamath Falls. As newlyweds, they moved to La Crosse in 1945. They had two daughters, Roni (Bob) Westbrook, and Margi (Jean Michel) Galabrun. They had four grandchildren, Paul (Ashley) Giese, Michelle (Mike) Wolden, Marc Galabrun, and Kristin Galabrun (Vincent Steinfeld). They also had three great-grandchildren, Hannah (Caleb) Giese Ellis, Tyler Wolden, Molly Giese. She is also survived by a former son-in-law, Steve Giese.
Millie Loved being the fashion merchandiser at Montgomery Ward retiring when the store closed in 1986. She transitioned to a second career in Real Estate working for Gerard Hoeschler. Retiring again in 2002 at the age of 76.
Millie's husband, Harley, passed away in 2006. The following year she moved to Eagle Crest North. She much enjoyed living there, where she met many new friends including her second husband, Bill Towner. They married in 2013, both age 87. Bill preceded her in death in 2016.
Millie was a member of Onalaska Methodist Church for many years. She enjoyed teaching Sunday School and being a part of both the 'Caring & Sharing' and Stephen's ministries. She also enjoyed working with the Miss Onalaska Pageant. While living at Eagle Crest, she enjoyed taking part in the Drama activities and coffee with the ladies.
Instead of a funeral Millie wanted us to celebrate her life. We'll be having an open house with light appetizers on Thursday, Dec. 7 at Hope Community Church in West Salem from 5:00 to 7:00.  In lieu of flowers or memorials, and in keeping with Millie's values, we ask that you spend some extra time with those close to you.
Wisdom from Millie: "Don't carry a burden with you. Don't let a burden load you down. Enjoy every day."