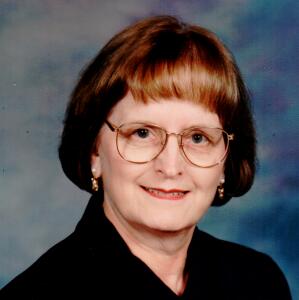 Phyllis Elizabeth Rusch of Onalaska died Wednesday, November 15, 2017 with family at her side.  God called her home and took away her long suffering from vascular dementia and Alzheimer's disease.
Phyllis was born August 27, 1937 in Sparta, Wisconsin to Philip and Elizabeth (Rhodenhizer) Davis.  She spent most of her childhood in Sparta and graduated in 1955 from Sparta High School.  She attended UW-Eau Claire for one year, majoring in music.  She left college and greatly enjoyed working as a mail carrier for Uniroyal Rubber Mill plant in Eau Claire.
While still in college, she was convinced by a friend to go on a blind date with a young man attending UW-Stout.  This apparently went well since this led to many more dates and an engagement.  Phyllis married Allan Rusch on June 7, 1958 at St. John's Episcopal Church in Sparta.  They were blessed with over 40 years of life together.
Over the next six years, Phyllis focused on raising children while also moving to Minong, Abbotsford and finally Onalaska as Allan pursued career opportunities.  Phyllis was subsequently involved in activities for their children throughout their school years, often volunteering and participating in parent organizations.
Phyllis loved the Onalaska United Methodist Church.  She was a member of church circles and United Methodist Women (in various roles, including treasurer) and taught Sunday school.  The church cookie walk was important to her; she was a major contributor with baking and working at this annual event.  She also was employed as the church secretary for years.  Her business, office and organizational skills were put to work and that made Phyllis happy.
From 1978 to 1988, Phyllis was the secretary and receptionist in the audiology department of Gundersen Clinic.  She was very dedicated to a job and people that she loved.
Her focus then shifted to caregiving, volunteering and hobbies. Phyllis took care of grandchildren while they were preschoolers.  Over time, she also helped with caring for her parents, Allan's parents, and Allan through their illnesses.  She was a founding member of the Onalaska Lioness club.  She was active in both Lioness and Lion events.  She and Allan enjoyed walking at the mall and made many dear friends there that became a central part of their lives.  After Allan's passing in 1999, she enjoyed traveling, exercising, and socializing.
Phyllis had many talents.  From an early age she played the piano and she loved music.  Her beautiful artwork included ceramics, drawings and paintings.
Her gentle love for her family was expressed in so many ways and will continue to influence their lives.  Love, joy and peace to a wonderful mother, grandmother, sister, and friend.
The family would like to thank the entire staff of Lakeview Health Center in West Salem for all of their compassion and loving care.
Phyllis is survived by her daughter Rochelle Rusch (husband Dan Bakkestuen) of Onalaska; son Robert Rusch (wife Ruth) of Albertville, Minnesota; grandson Darren Bakkestuen (fiancé Kayla Coyle) of Chattanooga, Tennessee; granddaughters:  Megan Williams (husband Ben) of Madison, Wisconsin; Samantha Kurr (husband Paul) of Delano, Minnesota and their children Ariah, Vincent and Truman; and Miranda Rusch of Hopkins, Minnesota; and brother Philip Davis, Jr. (wife Paulette) of Sparta.  She was preceded in death by her parents and her husband.
A memorial service will be held at 11:30 a.m. on Friday, November 24, 2017 at the Onalaska United Methodist Church, with a visitation beginning at 10:30 a.m.  A private burial will be held at a later date.  Memorials, in lieu of flowers, may be directed to the Onalaska United Methodist Church or to the Wisconsin Lions Foundation.