Annabelle "Annie" Leona Geske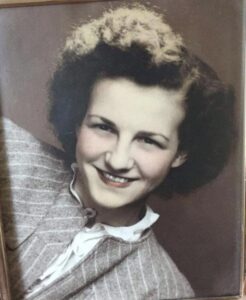 Annabelle "Annie" Leona (Moore) Geske, 94, of Galesville passed away peacefully on December 26, 2020 with family by her side.
She was born on June 24, 1926 to Frank and Carrie (Exley) Moore. She married Walter "Wally" Geske on May 21, 1948. They lived on Main Street in Onalaska until 1959 and then moved to Galesville, WI.
Annie had a deep and abiding love of her Lord and Savior which gave her great confidence she would be reunited with her family again in Heaven. Due to her loving ways, Annie excelled at being a mother, grandmother and great-grandmother. She took part in homemakers, was a 4H leader, and taught Sunday School for many years. She enjoyed helping people and volunteered for many civic events. She worked at the AutoLite in La Crosse, The Canning Company in Galesville, and was a cook at Marinuka Manor. Annie continued living on their farm in rural Galesville after Wally's death. She later became a resident at Marinuka Manor where she enjoyed bingo, word games, crafts, listening to music (especially Jim Reeves) and eating Cheetos and grapes. She had a wonderful relationship with the staff and fellow residents at Marinuka Manor. Above all else, family was the most important part of her life. She had the ability to make each family member feel they were extremely special. Annie Geske was a true blessing to all who knew her.
Annie is survived by her children, Earl (Mary Kay) Geske, Karen Schams, Dave (Mary Mac) Geske, Rick (Lisa) Geske; grandchildren Dawn (Gary) Bender, Carrie (Corey) Carter, Lisa Schams, Lindsey (Brian) Duwell, Karl Geske, Emily Geske, Alissa (Denis) Desgroseilliers, Elise Geske; great-grandchildren LeAnna Bender, Allison Bender, Neil Bender, Leo Carter, Remi Schams, Leni Duwell, Christine Fuchs, Coltyn Literski, Cayden Literski, Carter Brenson; Special family Mary Belisle, Leo Schams, and Courtney (Helen) Kotlarz; sister Mary Bess; and many other relatives and friends.
She was preceded in death by her husband, Wally; parents, Frank and Carrie Moore; 7 siblings; and grandchildren, Neil Schams and Dana Geske.
The family would like to extend a special thank you to the Marinuka Manor care providers.
In lieu of flowers, memorials are preferred to Bethel Evangelical Lutheran Church in Galesville, WI.
A private funeral will be held for her family. A celebration of life will be held at a later date. Coulee Region Cremation Group is assisting the family.