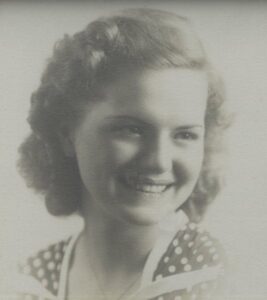 Green Bay – Betty Jane Miron, 99 and 10 days shy of her 100th birthday, gently slipped the bonds of earth into the arms of God at Hillview Health Care Center in La Crosse WI on Nov. 27, 2021, with her daughter Molly and her granddaughter Becky by her side.
Betty was born to Rebecca (Watson) and Joseph Ollerenshaw in St. Paul, MN on Dec. 7, 1921. She was 20 years old, and pregnant, when Pearl Harbor occurred. She lived her life in Green Bay where she was married and had five children. She was a self-proclaimed #1 Packer Fan. Betty had many friends and was loved by all. She was a devout Catholic and lifetime member of at St. Joseph's Church where she donated tons of pies to be sold at the Parish Picnics.
As a young woman and homemaker, she worked at the Office of Price Administration as a secretary. She attended cooking school and spent her life making wonderful meals for her family and everyone else! No one ever left her home hungry. Her motto was "Food is love!" She made authentic Booyah, Czech kolaches, Belgian and fudge pies, kneecaps, and clover-leaf buns. She was famous for her much sought after, baked beans. By the way, her recipe was never written down. It was by taste only and her secret ingredient was horseradish! How she loved to cook!
Betty belonged to the ladies' league at Brown County Golf Course. She always said she was a "lousy player!" but she did have fun. She loved to read, and she also did beautiful hand-embroidery, but the thing she loved most was spending time with family, especially her grandchildren. In her later years, she worked at Aspiro (Vocational Rehabilitation Services) cooking lunch and accompanying the clients on outings as a chaperone. They all adored Betty! She worked there for 17 years. She enjoyed her many trips to various US states and little trips to Door County along with big trips to Europe, Mexico, and Africa.
 She is survived by her daughter Molly (Mike) Marty of Onalaska, WI and two sons Jack (Leslie) Miron, Green Bay and Joe Miron, Appleton WI. She is also survived by 14 grandchildren, 24 great grandchildren and 9 great great grandkids!
Betty was proud of her Irish heritage. Her maternal grandma was Maggie Callan who lived in County Cork, Ireland.
She was preceded in death by her parents, two ex-husbands and her two oldest sons James and Michael Kissel, her sister and brother-in-law Patricia & Clint Baccus, an infant granddaughter and granddaughter Mary Pat along with many more friends and relatives.
The family would like to thank the staff at Hillview Health Care Center, especially Cathy Hengle and Tracy Holzer, for the wonderful care given to Betty.
A Memorial Mass of Christian Burial will be held at St. Joseph's Catholic Church on Saturday June 11th at 1:30 pm, with a visitation period prior to the Mass at 1:00 p.m.
Betty's family was so fortunate to have had her for as long as they did! Betty wants to thank everyone for being a part of her life, for being kind to each other, to think of the good memories and may God bless!
Online condolences and a complete obituary along with guest book can be found at www.couleecremation.com.