Dorothy A. Sagen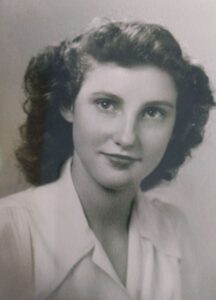 Dorothy Ann (Sullivan) Sagen, 91, of La Crosse, WI passed away peacefully on February 5, 2021.
A Mass of Christian Burial will be held at St. Patrick's Catholic Church in Onalaska, WI on Friday, June 4th. Visitation begins at 9:30 am; Mass at 10:30 am; followed by interment in Onalaska Cemetery at 11:30 am. A Celebration of Dorothy's life will be held at the family home after the interment at 1:30 pm. Masks and social distancing will be required.
Dorothy graduated from from Aquinas High School in 1947 and married Gerald (Jerry) Sagen in September 1948. Dorothy was a member of the Onalaska American Legion, serving as President of that organization in earlier years. She was an accomplished musician from an early age, playing a violin made by her grandfather. She retired early to care for her ailing husband, Jerry. After retirement, she bought an organ and took lessons to play it. She also had a twice weekly coffee date with several friends alternately at each of their homes. Dorothy volunteered in the Gift Shop at St. Francis Hospital for 16.5 years after her retirement. She also sang with the Variety Singers, a seniors' group who sang for patients in the nursing homes, as well as in the funeral choir at St. Patrick's Catholic Church in Onalaska, WI for several years. Dorothy was an excellent baker (her Apple Pie slices were her family's favorite). Dorothy loved to travel and visited numerous foreign countries with her Aunt Marian Johnson after Jerry was gone.
Dorothy is survived by her four children, Susan DiClemente (Michael) of Kennesaw, GA; Jeffry Sagen (Fay); Gerald T Sagen (Kathy); and Randy Sagen, all of La Crosse, WI; her nine grandchildren – Scott Graham of Carrolton, TX; Daniel Graham of Marietta, GA; and Sarah (Brian) Wilson of Matthews, NC; Andrew (Gena) Sagen of Littleton, CO, AnnMarie (Kelly) Nindorf of W. Des Moines, IA, Eric & Emily Sagen of La Crosse, WI, Bryan (Angie) Sagen of Onalaska, WI, Brenda (Thomas) Reuter of Mindoro, WI and her 13 great grandchildren – Dylan Graham of The Colony, TX, Alyssa, Kylie & Cooper Wilson of Matthews, NC; Ezre & Keona Sagen of Littleton, CO; Silvyana & Beckett Nindorf of W. Des Moines, IA; Nicholas, Tyler & Mason Sagen of Onalaska, WI and Ayla & Grayson Reuter of Mindoro, WI. Dorothy is also survived by her brother, Daniel (Barbara) Sullivan of Onalaska, WI and numerous nieces and nephews.
Dorothy was preceded in death by her husband, Gerald (Jerry) Sagen, her parents, Erwin & Rosina Sullivan and her in-laws, Oscar and Mathilde Sagen. She was also preceded in death by three of her brothers and two of her sister-in-laws: James and Dorothy Sullivan, Robert J Sullivan (Marlene), and William and Bonnie Sullivan and her brother-in-law, Oscar (Bud) Sagen and his wife, Joanne.
The family would like to extend special thanks to her youngest son, Randy, who was instrumental in her care the past several years.
Coulee Region Cremation Group is assisting the family.