James (Jim) Raymond Mueller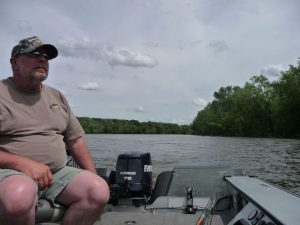 James (Jim) Raymond Mueller, 65, of Minnesota City, Minnesota, transitioned peacefully with his daughter,Leah, by his side on September 04, 2019.
Jim was born to Raymond Mueller and Beverly Mueller–Babler, April 22, 1954 in Rollingstone, Minnesota and spent his life in the Winona area. He graduated from Winona Senior High School and attended Winona Technical College. He owned Northland Builders for many years and took great pride in his craft and enjoyed helping  people love their homes. He lived on the Mississippi River at Bass Camp and we hope Heaven can rival its beauty.

Jim was an avid fisherman and outdoorsman and immensely enjoyed being in his boat on the Mississippi River. His best days were spent soaking up the sun and catching walleye, perhaps with a cold one in hand.

He was inquisitive and wise, lived by the Golden Rule and thought humor was the best medicine. He made everyone around him laugh right up until the very end. He had a contagious laugh and an incredibly warm smile.

Jim is lovingly remembered by his two Daughters, Sara Lim (James Lim) and Leah Mueller (Eli Swaden) and also his little buddy, grandson, Benjamin Lim.

He was the greatest father and grandfather one could have ever asked for, his family cherished their time with him and will miss him deeply. His one liners and expressions will always be remembered as well as his love for nature and ability to make his family feel so loved.
Thank you to all his friends and family who shared laughs and made lasting memories with Jim over the years.

Now it is time, not to say goodbye, but to say save us a seat in your boat. You told us you wanted to fish until the bait runs out and we know in Heaven there will never be a shortage.

There will be a Celebration of Life Saturday, September 21st at 1pm at the Prairie Island Kiwanis Pavilion located at 1340 Prairie Island Road Winona, MN.