Michele ("Mickey") Taliel Shelton Collins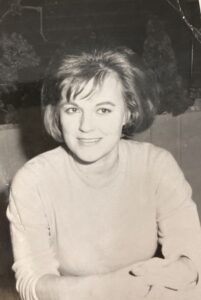 Michele ("Mickey") Taliel Shelton Collins was born on April 21st 1935 in Denver, Colorado, where she lived out the first 35 or so years of her life. (Michele is pronounced like "mi-kay-lah"). Throughout her life, Mickey drove across the country often, and later even drove to neighboring countries. She lived out the rest of her life in Wisconsin.
Mickey was diagnosed with liver cancer at the start of May 2022, and was given eight to 12 months to live. She died peacefully on Saturday, January 21st 2023, in La Crosse, WI; exactly three months before her 88th birthday.
Her father was Beverly "Bob" Noteman Shelton (1906-1972), and her mother was Alberta Marie Collins (1913-2015); both Denver, Colorado natives, who divorced when Mickey was a toddler. Mickey lived with her mother and stepfather, John Julian McEniry (1903-1992), a Navy war veteran, until she was 16 years old. During her childhood with them, she and her mother traveled all around the southern states while John served in the Navy. She fondly referred to him as her "sailor daddy." He taught her to identify all ships in the water and planes in the air during WWII. She and her mother traveled by train a lot, and lived through war rationing, and being a stranger to every town they moved to during that time. Mickey's first name was hard for people to pronounce, so she would choose a new name for each town, sometimes "Gardenia," and other times,"Dorothy."
After war time, through her teens, Mickey would fish and spend time with horses on her maternal grandmother's ranch in Creede, CO. She loved to ride horses in both English and Western style, from the age of ten to her thirties. Mickey also loved skiing in the Rocky Mountains, and did so from the age of 16 to her thirties. She maintained a great love of the mountains her entire life. She said that the feeling of the sunshine in winter in the mountains made her feel close to heaven. She also enjoyed shooting clay pigeons for fun, from the age of 23 on, and was a perfect shot.
Her first major job was as a telephone operator in Phoenix, Arizona. Mickey later moved back to Denver, and worked as a telephone operator and clerk for the Office of Civil and Defense Mobilization under President Eisenhower, where she had security clearance. Eventually, she transferred to the Office of Land Management where she worked as a cartographer, which she really enjoyed.
That fortuitous occupation was interrupted by becoming a single mother (due to domestic violence) with her first child, a daughter. Mickey then took work that allowed her to have her young child with her as much as possible. So, for many years she managed restaurants and tended bars at various places in Denver (the Holly Inn, The Retreat, and The Plaid Piper). Mickey remembered it as a deeply stressful time, as it was difficult to afford, find, or trust babysitters.
In the 1960s, Mickey met and later married a kind man, Carl "Stan" Conrad, Jr. (1929-1966), a US Air Force war veteran, whom she would have her second child with, a son. However, Stan died suddenly, towards the end of her pregnancy, leaving her widowed with a newborn and a seven year old.
Continuing to manage restaurants and tend bars in the mountains and around Denver, Mickey later met a divorced man with a son and daughter of his own, who eventually led her to move to a very small town in Northern Wisconsin. Through this relationship, Mickey lost a baby who lived only three days; and also gained two daughters. Later, Mickey and her children had to leave this man, due to domestic violence and abuse.
Mickey then created her own business in Blair, WI, called Grandma's Shop, which was a natural goods (carried Tom's toothpaste before it was well-known) and antique shop. Unfortunately, it was destroyed by a flood at the beginning of the 1980s, only a year or two after it opened. From there, Mickey moved to Galesville, WI, where she became a part of Marynook, an ecumenical retreat center, run by the Society of Mary brothers, a few nuns, and a priest. She helped with retreats, housekeeping, fishing, cooking, and mass mailings. She also converted to Catholicism, and became a lay member of the Society of Mary religious order.
Mickey lived in Galesville from 1982 to the beginning of the 1990s. She went to college when her youngest child was still at home in middle school. Mickey earned a BA degree in Psychology and Ministry from Viterbo University; and a MA degree in Counseling, with a Social Worker's license, from Winona State University.
In 1993 Mickey moved to La Crosse, WI, where she lived for the rest of her life. The first few years in La Crosse, Mickey worked as the manager of the Salvation Army Homeless Lodge. The Major, Mickey's boss, encouraged her to also take a job as a Chaplain at the local Catholic Hospital. She was hired; and for six months, she worked both jobs. She worked as a chaplain for the old nursing home at Franciscan Skemp hospital in the first year.
Then, and for the rest of her career (1997-2020), she worked full-time at the Franciscan Skemp/Mayo La Crosse Hospital as a Psych floor chaplain. As a chaplain, she also provided services on some Sundays, shared morning prayer over loud-speaker, created and ran support groups, created an aromatherapy program, and led small groups for people in recovery. During Mickey's early days as a chaplain, she became close to the Franciscan Sisters of Perpetual Adoration, and so became an FSPA Ministry (lay) affiliate to the sisters at St. Rose Convent.
Around the beginning of her time working in La Crosse, Mickey co-founded the Place Of Grace Catholic Worker House (909 Hood St.) with ten or more colleagues and friends. Mickey lived at Place of Grace for about ten years, as a co-founder and volunteer, offering meals and hospitality to people in need and others in the neighborhood. She truly loved the community she had at Place of Grace. She was nicknamed "Mother Love" by people she helped, in her time there. She also created and printed the Catholic Worker newspaper with a few of her colleagues.
Later, Mickey was involved with Jail Ministry once a month, and became a part of a Circles of Support group through the Jail Ministry.
In her short retirement (2020), Mickey deeply enjoyed the presence and support of her Buddhist Sangha (meditation and mindfulness group). The family is thankful for this mindfulness community that enhanced Mickey's quality of life. Also, Mickey's neighbor's brother, Steve, was an angel in disguise, always there to help Mickey with important repairs at the house. She was so thankful to Steve for his help and presence in her life. Most of all, Mickey delighted in havinga house, a garden, and being able to feed and watch the birds and squirrels.
Not long before her death, Mickey often expressed deep gratitude for the amazing care she received from staff at Mayo La Crosse (her former workplace) while she was in hospice. Her family is also deeply thankful for the loving care she received from all her medical caregivers at the hospital in the last month.
Mickey now joins her loved ones who passed on before her—her: father Bob Shelton; mother Berta McEniry; stepfather John McEniry; daughters Kelly Burns (1959-2014) and Chanah O'Sheeran (1971); and son Chris Conrad (1966-2020).
Mickey is survived by her daughters Gina Facchinello (Chet) and Chandra Sherin (Jeff); her granddaughters Michaela "Mickey" Facchinello (Dean), Morgan Hasler (Randy), and Samara Sherin; her grandsons Brendan (Nicole) and Colin (Cortney) Burns; her former son-in-law Timothy Burns (Beth); and her beloved Norwegian Forest cat, Tizzy.
Mickey is known and remembered as a woman of strength, youthful appearance, and unique spirit. People were always shocked to learn her age, whatever decade it happened to be; always thinking she was 20 years younger! Her great compassion, sense of adventure, love of her children, generosity, and willingness to grow and learn were persevering. Mickey is loved and remembered always.
Mickey's ashes will be in a biodegradable urn called "tree of life," which will be planted in the spring, when there will also be a ceremony of celebration for her life.